I've been woefully behind in my videography, in part because my computer crashed earlier this year, but in larger part because - since finding myself in the surprising position of being the proverbial starving artist this year, I've been up to my ears in work!
The good news is that I finally managed to get a single-camera version of
A Comedy of Murders
up on YouTube for your viewing pleasure! The play is a pastiche of those great Agatha Christie novels...if an audience member came up and objected to the ending.
It was first suggested to me by my brother, Peter, after we saw Shakespeare in the Park,
Comedy of Errors
here in Boston. As we were waiting on the common for all those silly people to clear out of the parking garage (rather than waiting in a stuffy car in the stuffier garage with them), we sat on a park bench and came up with improbable situations for possible plays. This one stuck.
Thanks go as well to my father, that bastion of suggestions, who - when I asked him for possible means of murder - came up with suggestions like "death by explosion" and "death by decapitation." When I laughed but objected to those, my father then proceeded to explain how it could be done technically.
And thanks most of all to the cast, the Sophomore Class, who performed
A Comedy of Murders
this past May 2011, and did a splendid job! It's a big ensemble piece, and it needs a little revision, but mostly it's a lot of fun killing off a bunch of people.
Especially killing off the ingenue.
A lot.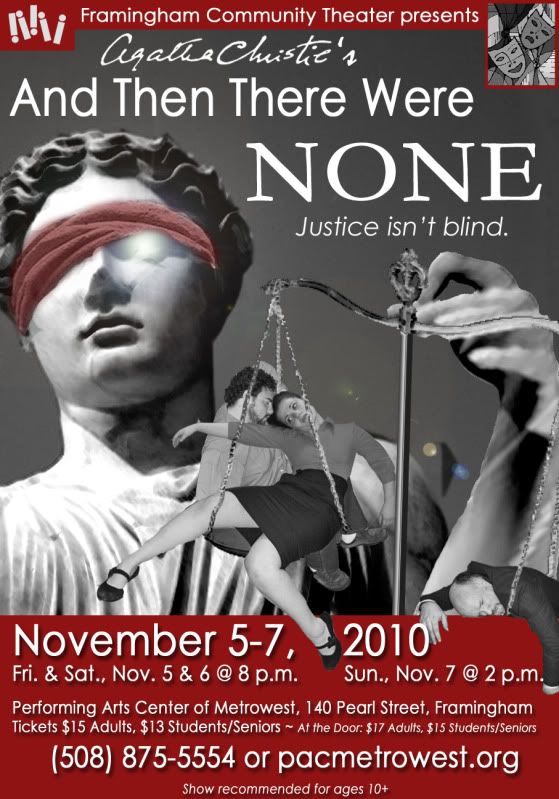 It's been a busy year. And since I'm a list kinda gal, this is what I've been doing since August 2010.
May-(Ending in) August 2010:
The Taming of the Shrew (Directed)
August-November 2010:
And Then There Were None (Director)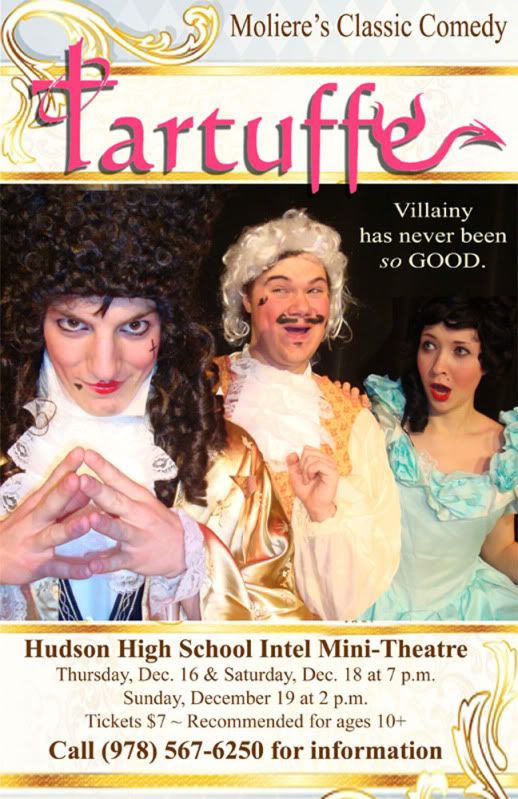 September 2010-March 2011:
Tartuffe (Directed: Full Play for November, Cut Version for Spring Festival Competition)
October 2010:
Little Shop of Horrors (Sound)
October 2010-May 2011:
Advanced Musical Theatre Class (Teacher/Director)
October 2010-
December 2011:
Scrooge: The Musical
(Actor: The Spirit of Christmas Past)
November 2010
-March 2011:
South Pacific
(Vocal Coach/Sound)
January-February 2011: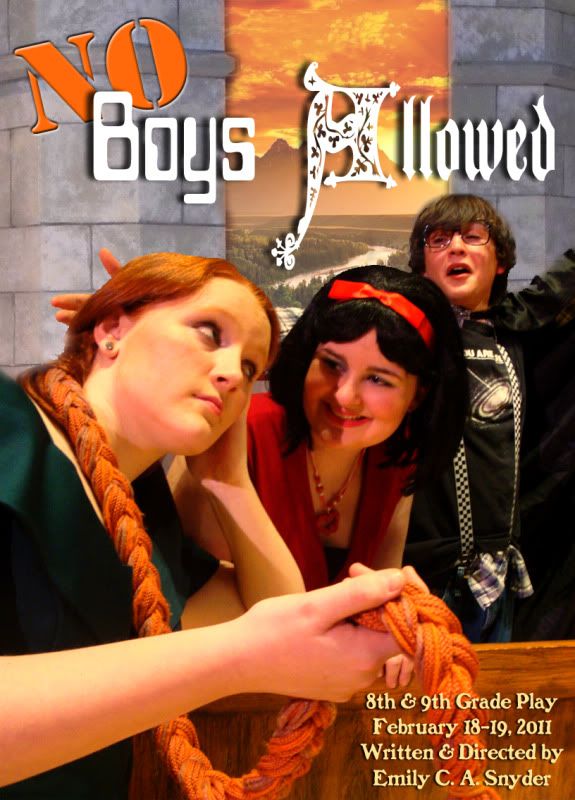 Curses! (Directed & Wrote)

No Boys Allowed (Presented as part of Curses!) (Directed & Wrote)

January-April 2011:
Heirs & Errors (Directed & Wrote)
April-May 2011: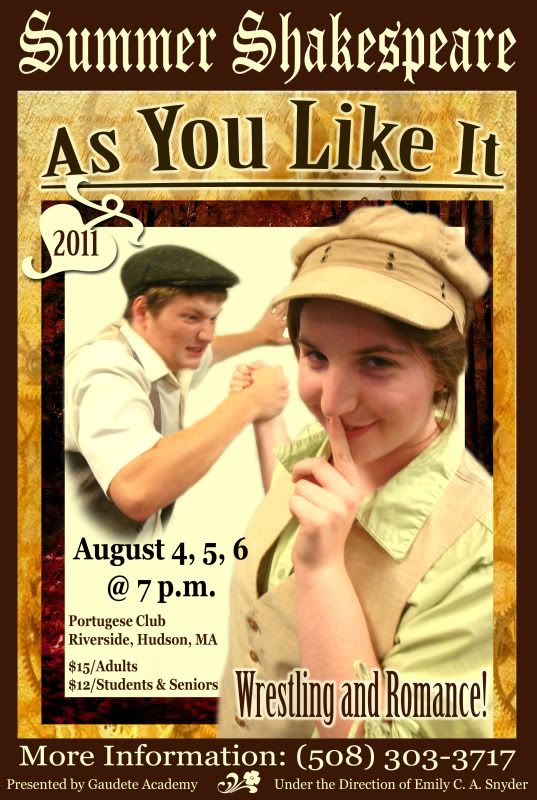 A Comedy of Murders (Directed & Wrote)
April-May 2011:
As You Like It (Directed)
As well as performing at teacher's recital at the
Performing Arts Center of Metrowest
in Framingham, MA on Valentine's Day, February 2011.
I also had the opportunity to write:
St. Peter & Grandma stories (Theatre for Young Audience Plays, performed at Vacation Bible School June 2011 - see right)

Turn to Flesh (A 10-minute iambic pentameter play about the death of Medusa - not yet performed)

To the Dark Tower Came (A 30-minute verse play about the death of Childe Rowland - submitted to the Thornton Wilder Playwriting Competition through Playscripts)

And revising Act II of Cupid and Psyche (For a reading in Boston at the Factory Theatre in Feburary 2011)
I was also blessed with several performances of my plays:

All I can say is...PHEW!!!